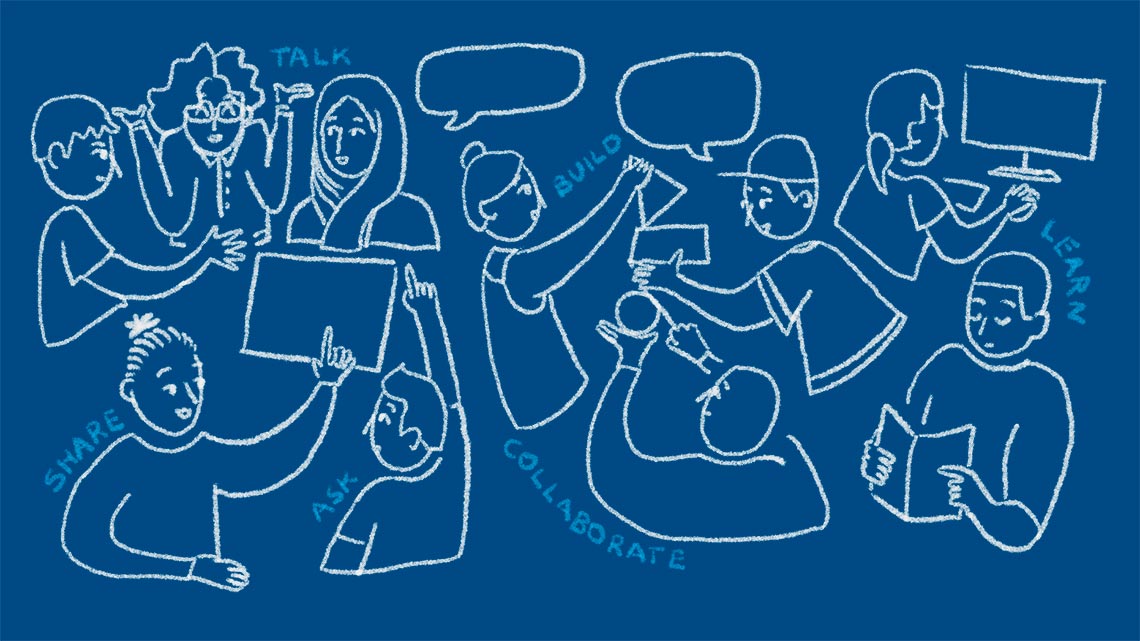 Our members include tech workers, independent consultants, data scientists, designers, students, and more. Membership is open to anyone who identifies as a tech worker, is in the tech industry, or is interested in working with tech folks. The only requirement is that you are interested in tackling climate issues in the workplace. People of any geographic region, sector, skill-set, day job, seniority, knowledge or experience level are welcome.
If this sounds like you, please join us!
We operate an intentionally safe and inclusive environment at all times, for people of any gender, identity, ethnicity, religion, socioeconomic status and/or other possible historically exploited differentiators. Protecting this is, and will always be, core to our community value system.
We follow the Chatham House rule: CATs are free to use information received, but neither identity nor affiliations of the speakers/participants may be revealed (unless the speakers/participants give their consent)
If something inappropriate happens, reach out to us at hello[at]climateaction.tech.
Always inclusive, welcoming & safe
---
Equal respect for all membership styles
---
Privacy enables participation
---
Our Channels
There are a lot of channels, so we use prefixes to make them easy to sort. There are four main channel types:
#green(er) = communities of practice: This is where we learn to integrate sustainability into our work. #greener-infra, #green-teams, #greener-webperf are just a few.
#local = location-based channels: Say hi and meet your neighbours! We have members all across the globe.
#cat = for CAT projects run by CAT members for the community (e.g. #cat-salon, #cat-newsletter, #cat-action-guides)
#proj = for member projects that don't necessarily have to do with CAT (e.g. #proj-11at11)
Any other channels used for sharing thoughts & resources and discussing specific topics don't use any prefix. We also have a few channels we wanted to highlight for you:
#1-announcements: Community-wide news
#2-lobby: Water cooler chats, community check-ins and other bits & bobs
#3-ask-anything: Probably our most popular channel, ask your climate questions, tech questions or anything in-between or outside of those topics
#moderator-help: For assistance with Slack or community guidelines
#share-your-work: Sharing milestones, getting feedback on your work or sharing a finished project
#products-services: To share and promote a product or service (could be something you've been building or discount codes for CAT members)
To view all the channels, go to the channel browser in Slack (click on "More" in the sidebar, and then "Channel browser").
If you're unsure what a channel is about – check out the channel description at the very top right underneath the channel name.
If you don't see a channel that works for you, you can create one. You can gauge interest in #lobby first or ask for assistance in #moderator-help.
---
Our People
Advisors
Andy McWilliams
(he/him)
Sam Phillips
(he/him)
Organizers
Volunteers
Alicia Wong
Andrea • Twitter
Andrew O'Regan (he/him) • UX/Service Designer • fantoraygun.com • LinkedIn
Antonio Roque • CS student and Junior Digital Project Manager
Brittany Fischer • UI/UX Developer
Deena Rosen (she/her) • Design Advisor • deenarosen.com • LinkedIn
Evan Hahn (he/him) • Programmer • evanhahn.com • Twitter
Jemma Harwood • Digital design + video
Joshua Cortez • Data scientist
Katrin Apel • Freelance Product Manager, Developer
Kaushal Bhavsar (he/him) • Computer Vision Engineer • LinkedIn
Luís Cruz • Assistant Prof. at TU Delft • Twitter
Marketa Benisek • Climate Reality Leader
Marwa Eltaib
Matthew Ferry (he/him) • Data Wizard & Software Engineer
Nadia Zunarelli (she/her) • UX Designer • LinkedIn
Natalia Waniczek (she/her)
Noel Anthony • Copywriter and Content Marketer
Pia Faustino • Head of Social Impact
Piyush Mishra • Engineer
Rebecca Stevenson
Sarah Hsu • Cloud Platform Engineer
Sofia Rufino • Energy and Environmental Engineering
Stefanie Mühlbacher • UX Designer
Su Hang • Data Scientist
Alums
David Cairns
Chelsea Mozen
Sara Diaz
Peter W
Tom Jowett
Sean O'Connor
Steven Lemeshow
Bryce Walsh
Yarin Snapir
Khaled Arnaout
Sarah Hoessler
Laurence
Erin Duddy