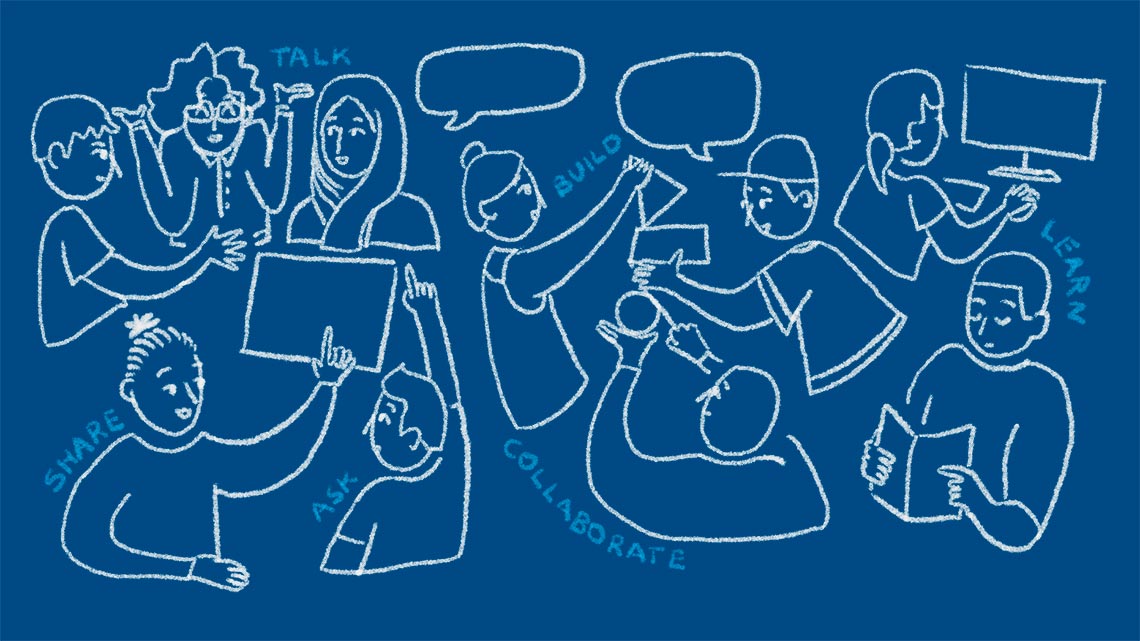 Being a ClimateAction.tech Member
We are a varied bunch — our members include tech workers, independent consultants, data scientists, designers, students, and more. Membership is open to anyone who identifies as a tech worker, is in the tech industry, or is interested in working with tech folks. The only requirement is that you are interested in tackling climate issues in the workplace. People of any geographic region, sector, skill-set, day job, seniority, knowledge or experience level are welcome.

If this sounds like you, please join us!
Community Stats
We've got over 7.000 members in our Slack community.
We have members on all continents around the globe. Our #local channels help them connect.
Our most popular Slack channel is #ask-anything where CAT members can find help and start discussions.
Your member journey
By joining our community, you enter a space for social learning, support, and community. Members can get started on, or ramp up their climate journey by connecting with other people, organizations, & resources. You'll be able to…
We aim to give you the tools to…
Understand your levers for change

and how you can make a difference at work

Green your craft

, so you can build products & services with an awareness of their climate impact

Speak up

, break climate silence and normalise climate-tech conversations in meetings, town halls, requirement discussions and at conferences

Advocate and influence

leaders, decision makers & others to take climate action
Testimonials
"CAT is indispensable to me – asking questions, learning, seeing the news, joining events, finding talented people. I'd be stuck without it!"
🦁 Longtime CAT
"CAT helped me make my work more environmentally focused by connecting me with like-minded tech folks who are similarly interested in applying climate action in our jobs. I've been inspired and encouraged by the CAT content to continue learning about and growing in this space."
🐱 Connected CAT
"Being in CAT made me a bit more hopeful about our chances for positive change and has given me an inspiring online community."
🐯 Inspired CAT
---
Our Values
Lived experiences, existing work and knowledge
We listen to others and build on what already exists before we jump in.
Diversity of thought and nuanced conversationsNuanced and multifaceted conversations help us learn and can change our minds and shift our values.
Group learning and knowledge sharingWe have common ownership over our learnings and share them openly in order to help others take action. Participating in the community means listening, joining and contributing to conversations and connecting with one another.
Transformation at all levels: from tiny shifts to major social changeSmall actions, conversations, and supporting others count as actions — they're necessary for bigger change.
Safety & PrivacyWe recognize that there are different levels of risk in taking climate action. We are committed to operating a safe environment for all, regardless of gender identity, sexual orientation, ability, ethnicity, socioeconomic status, religious beliefs or other differences.
We follow this code of conduct and the Chatham House Rule.
Reflection & care
Reflection and care helps us maintain a sustainable pace. We recognize that we need different things to keep us going and we support each other when we get stuck — whether that's through celebration, taking a break, enjoying art, connecting with nature, or something else.
These values were inspired by Detroit Digital Justice Coalition, Allied Media Network Principles, Society Centered Design, and Design Justice Principles.
---
Community Guidelines
We've set up a few community guidelines so we can ensure that CATs get the most out of our community. Please use these guidelines when participating in the community. The full version of the guidelines can be found on our internal knowledge base Outline.
If something inappropriate happens, reach out to us at hello[at]climateaction.tech.
🌿 It's a garden
When asking for something, find ways to give back to the community
Give context when you share something
Avoid information overload
❤️ We are people behind our avatars
Actively listen to others
Respond with care
Take responsibility when you make a mistake
Take breaks when you need them
Report it when something doesn't look right
Don't publicly share personal information