Branch Magazine is a twice yearly publication, started in 2020, to explore what it means to be a technologist in a climate emergency.
Deliberately pitched as a primer for understanding the interplay between technology and climate, Branch encourages technologists and makers to think critically, and systemically about the field, and serves as a showcase for working sensibilities around climate into the design of the publication as well as the content.
Branch features contributions from the likes of technology workers in the Microsofts and Amazons Inc of the world, along with writers from the Amazon rainforests, and is produced in collaboration with EIT Climate KIC, Mozilla Foundation, and Green Web Foundation.
Branch Issue 2 is out now!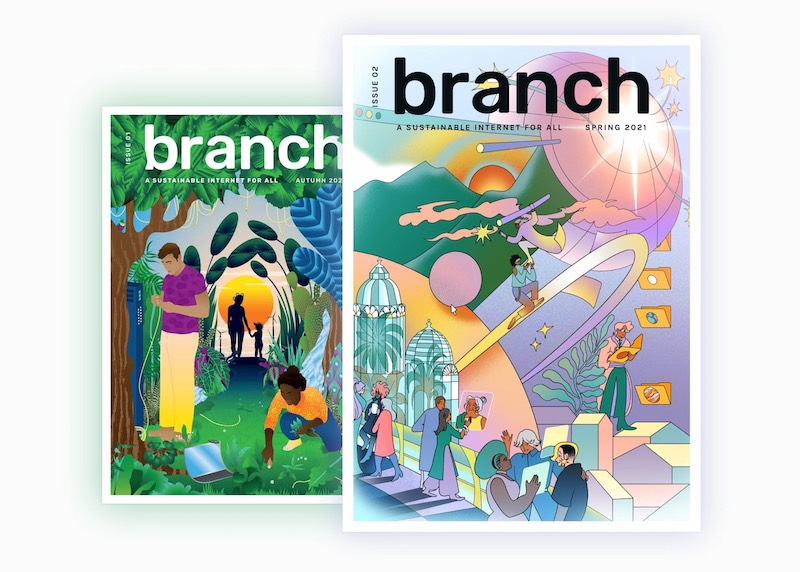 Exploring 5 main themes
Solarpunk and Other Speculative Futures
Big Tech Resistance
Sustainable Web Craft
AI Promises and Perils
Change is a' Commoning
Issue one of Branch explored 5 main themes
Solarpunk and Other Speculative Futures – new aesthetics to draw inspiration, beyond the normal 'steel, mirrors and and glass' of common future depictions
Sustainable Web Craft – stories of established professionals, adapting their existing work of building websites to incorporate climate awareness
Critical Art and Carbon Aware Design – stories from designers and commentators, describing who we design for, and what changes in the energy systems we might take advantage of with new interactions
Climate Action in Tech – stories of people switching jobs to focus on climate as their new main priority issue
AI Promises and Perils – for better or worse, AI, is considered a significant lever in climate discussions, as well as a cause of emissions. We covered the perspectives from this sub community of technologists
Policy and Advocacy – insights from the front lines of campaigners, and common mistakes people make when they try talking to others about climate
Further Links
Read more about the making of Branch, with the letter from the editors.