This is a community-written summary of one of our CAT Salon events. This CAT Salon was inspired by Nishul's blog post:  The World Doesn't Want a Carbon Footprint Tracker App
Find the recording of this talk here
Speaker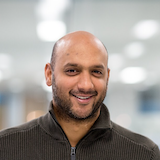 CAT member Nishul Saperia is a member of the founding team of Markit – now IHS Markit – a $30 billion fintech that is today listed on NASDAQ. Now he's active as a mentor, investor and advisor across the startup spectrum.
Twitter
Summary
Nish thought about building a carbon footprint tracker.
What it is: An app on your phone with minimal input from you, sucking up your data, energy bills, email, etc. to calculate carbon footprint
Goal: to help you understand your footprint & incentivize users to take action (e.g., we could all save 80 fish each)
Discussion questions
Which climate projects have you seen somewhere and you were like "woah this is great" but then never used it again?
Are you working on a climate project either in your spare time or as a startup? Or have you in the past?
Have you talked to potential users about your project/idea?
Breakout group discussion
Apps/websites folks returned to over time
Giki: scan products and get information on how sustainable they are
Electricity map: discovered it, loved the presentation of data but there's no personal need for the data. But this could be useful for premium members / people that have to do with this data in their day job.
Energy usage tracker for CO2 emitted in ML tasks: https://pypi.org/project/energyusage
Products/projects that are useful or worthwhile for folks are…
Awareness-raising

— even if I only look at it once, it creates a change

Friction-free

— this makes me want to return to the page (e.g. could the results from the green web foundation be included in search results?)

Inspirational

— even if I don't return to it loads, inspirational projects can make me think and spark ideas
Ultimate goal: Care about your customer (& the planet) more than your own profit.