The #LetsGreenTheWeb, a focused Twitter campaign that ran from 15-19 February 2021, aimed to raise awareness of how websites create CO2 emissions and inspire the tech industry to take action.
The campaign, run entirely by volunteers from the ClimateAction.tech (CAT) community, encouraged and supported everybody willing to measure the carbon emissions of websites using the free websitecarbon.com tool made by Wholegrain Digital. People were then asked to tweet about the results, both good and bad.
At the heart of the idea was a desire to encourage positive behaviour change through reaching out to others in a constructive way, thereby maximising the chances of a positive response and action being taken. For more info, check out our campaign announcement post: #LetsGreenTheWeb together.
What did we set out to achieve?
When we initially planned our campaign, we listed these changes as the things we wanted to bring out in our project brief:
By raising more awareness across the tech industry of the carbon emissions of websites, we can:

Encourage people in the tech industry to take action to make websites, and by extension the internet, more sustainable;
Empower people in the tech industry to challenge non-sustainable practices at their places of work or in the industry, thereby creating a positive impact on reducing carbon emissions;
Highlight the co-benefits of more planet-friendly websites such as: faster sites, cheaper to run, better user experience, and better findability; and
Highlight companies doing genuinely well and provide social proof of their practices.
By signposting developers and website teams to useful, practical resources we can raise awareness of some of the best tools out there, and get them used more, potentially increasing their user base and impact
By running this action as a CAT-led action we can:

Showcase the work and talent of CAT members, benefitting those individuals directly and further improving the awareness and reach of CAT itself;
Provide CAT members with a renewed sense of purpose and mission by taking part.
We were amazed and delighted by the success of the campaign, especially as it was the first of this type of action that we organised.
Who were the volunteers?
A team of 17 volunteers from the ClimateAction.tech community came together to run the campaign. For more details on the team, view our #LetsGreenTheWeb project page.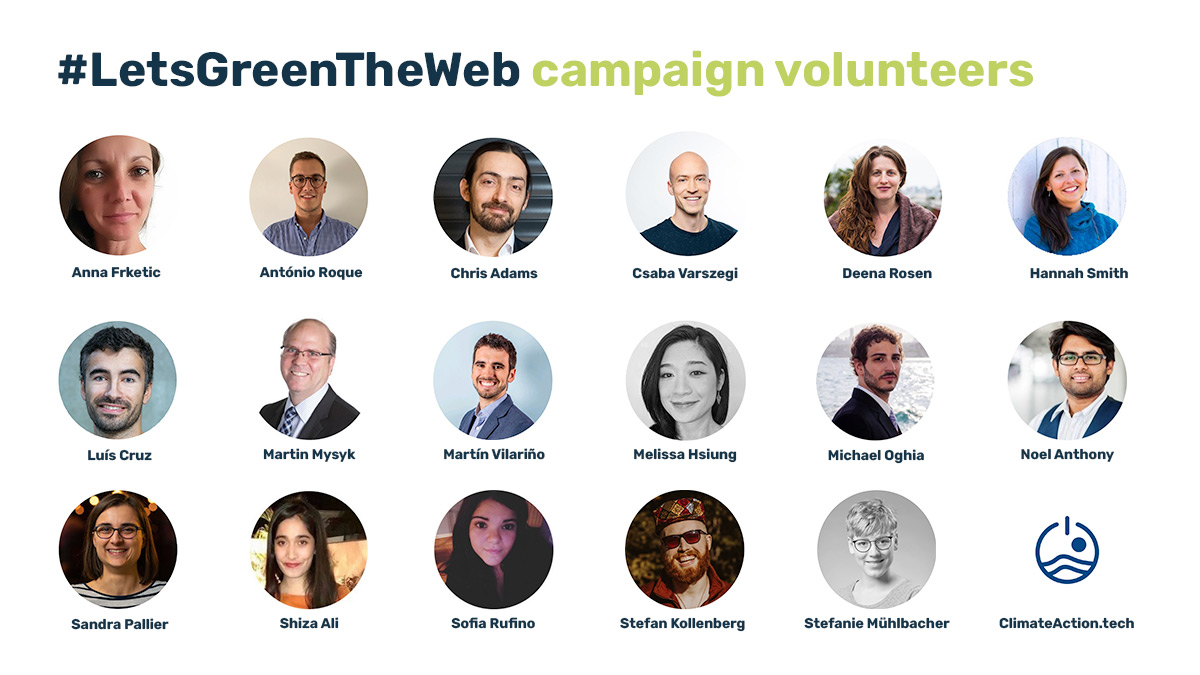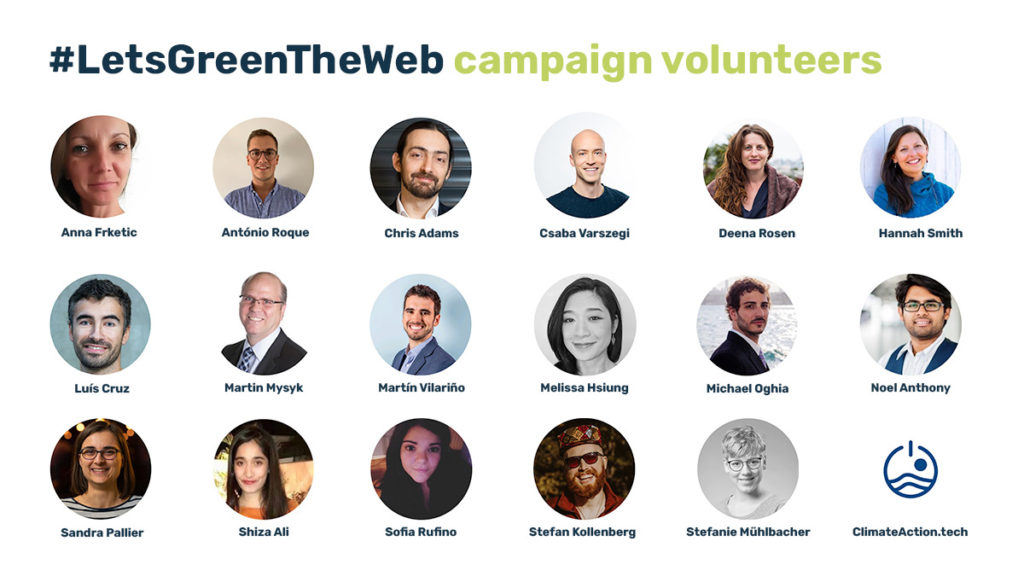 Overall, how do the stats say we did?
websitecarbon.com stats
Our overall aim was to get people measuring their website emissions, and we recommended using the websitecarbon.com tool to do this.
The tool received 37,115 visits during our extended campaign week (14-20 Feb 2021). During the first seven day period in Dec (1-7 Dec 2021), the tool received 17,048 visits. That's more than double the number of people testing a website's emissions. Think of all those thousands of additional people checking their websites – wonderful!
Stats from our own website
Overall, our website received 1,750 hits over the campaign period of 14-20 Feb 2021. This is nearly six times more visitors than our average 300 hits per week in 2020. We also had visitors from 64 countries during the campaign, representing every continent except Antarctica (we'll give them a pass), which is a reflection of the global community that ClimateAction.tech is.
The top 10 countries people visiting the site hailed from were the United Kingdom, United States, Germany, Portugal, France, Canada, India, Belgium, and the Netherlands – in this order.
As part of the campaign we created several new sections on our own website. The most exciting of these is our Action Guides section, which is evergreen content that can be accessed by anybody wanting to take climate action using technology, at any time. A real asset to the community!
Twitter stats
We choose Twitter as the social media platform to focus our campaign communications with. We had our existing @ClimateActTech account with just over 3k followers, which gave us a good head start. We also created the #LetsGreenTheWeb hashtag, which had just 1 tweet when we started.
By the end of the campaign, a total of 1,111 tweets (great number isn't it?!) used the #LetsGreenTheWeb hashtag. These were retweeted 4,455 times, which is a fantastic reach when you consider we started from zero.
We also saw interest in our @ClimateActTech account skyrocket with our tweet impressions rising to 122k in Feb from 3.7k in Jan. And our profile visits did well too, rising to 12.5k in Feb from 2.1k in Jan.
Some examples of actual impact
Stats and figures are all very well and good, but let's have a look at how the #LetsGreenTheWeb campaign started conversations and prompted real action to reduce the carbon emissions of websites.
We also did a study of our suggested approach to reaching out to others. If you'd like to read more, check out our post: We challenged five organisations to review their website carbon emissions and here's what happened.
DeZeen got alerted to their emissions and did something about it!
Dryden Williams, founder of EcoPing and long time ClimateAction.tech member, responded early on to our call for blog posts to support the campaign. Dryden played a blinder and wrote The digital carbon footprint of Dezeen; the worlds most popular architecture website. He also went one step further and forwarded it to their tech team.
What's really exciting though is that not only did DeZeen reply, they also immediately set about doing something about their site and chopped an enormous 10MB off their homepage straight away. Dryden estimated that chop in file size saved an estimated 743,820KG of CO2 a year. Yes it's a massive number, but they are also a hugely popular site.
DeZeen also wrote The carbon footprint of our website will no longer be pushed to the back of our minds in response. It turns out that their developers had been urging them to work on web performance for a while in order to improve user experience, but it took the added environmental benefits to get them to make efficiency a priority. Now how about that for a win?
How did people call out non-sustainable practices in a constructive and kind way?
We saw some brilliant variations on our tweet templates that exemplified the approach we wanted to champion through the campaign. Here are a few of our favourites:
How did people highlight the co-benefits of planet-friendly websites?

What were the resources and tools that we helped people find?
A lot of people were directed to our own Reduce the Carbon Emissions of Your Website Action Guide (as we'd hoped!) and to various other resources listed within those pages.
Summing up
We couldn't have been happier with how the #LetsGreenTheWeb campaign went. We saw a range of approaches to talking about website carbon emissions. But without fail, every single conversation we saw happening was constructive, respectful, and most importantly, productive to helping people take action. Our biggest success was seeing all the thousands of extra people measuring the emissions of their site using the websitecarbon.com tool.
And while the focused campaign effort has stopped for now, the #LetsGreenTheWeb hashtag will live on through Twitter, and other social media platforms like LinkedIn, continuing to provide a starting point for those looking to learn more about the topic and get involved. And discussions are already underway about how we repeat the success of the campaign in the future.
Take a bow ClimateAction.tech community – this was a community driven action we can all be proud of!