Written by CAT member Sofia Rufino
Our #LetsGreentheWeb Campaign officially kicked off this week! So, we decided to take our own advice, and asked Sofia Rufino to reach out to five organisations and challenge them to review their website carbon emissions using the steps on our Share the Carbon Impact of a Website Action Guide.
Let's get right to what Sofia has to say.
Choosing my five organisations
The first step was to choose the five organisations I wanted to focus on. There are three key questions that I suggest you ask yourself before making any kind of decision:
1. What organisations do I really care about? Who am I invested in and actually want to help?
2. What company really needs to know this? Is there a company/organization that is taking sustainability and climate change seriously, but didn't realise the impact their website can have?
3. Do you have any contacts that you can leverage here? For example:
Where do you work? – If you choose the company or organisation you work for, you can share the tweet with your colleagues and ask them to like, retweet, and share it. This way it will have more visibility within the company. You can also follow-up directly with your communications, design or web team(s) or whomever else is in charge of your company's website and digital infrastructure.
Where do your family members or your friends work? – You can also think about the companies your family or your friends work for. Share the tweet with them, and ask them to share it within the company.
Be creative; explore every avenue – Where do you volunteer? Where do you study? Is there any company that is active and visible on social media and tends to respond to their clients?
I thought about these questions, and decided that I should reach out to the following five companies:
Estimating the website emissions and reaching out
After choosing the companies/organisations I wanted to test, I visited the website carbon calculator tool, which is the tool recommended by the #LetsGreenTheWeb campaign, to see the impact of each company's website. The campaign suggests measuring the homepage since it's likely the page that gets the most traffic, but the tool will test any page.
I also used the tweet templates on the Share the Carbon Impact of a Website Action Guide and loved how I could tweet directly from the website. I amended each tweet to contain the score each company got and to give the link so they could check the results themselves.
Amnesty International
Amnesty's website had pretty good scores 🎉
I still tweeted to praise their efforts since this campaign isn't just about raising awareness for how things can improve, but also applauding those companies and organisations that are excelling.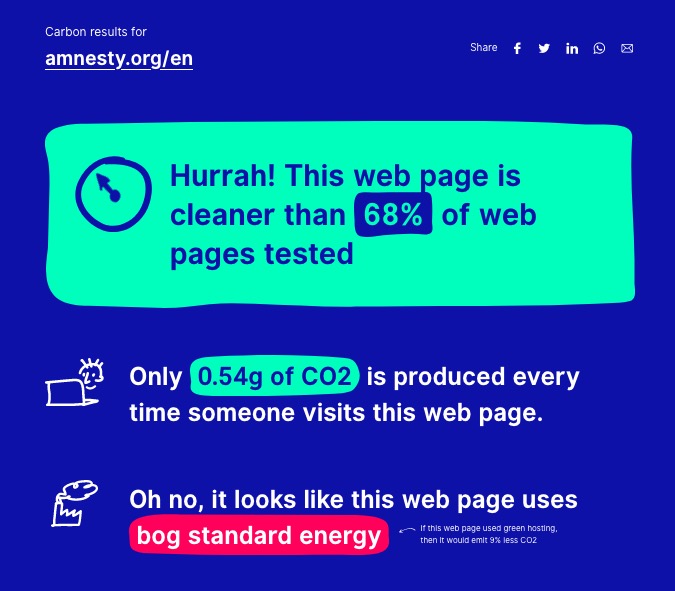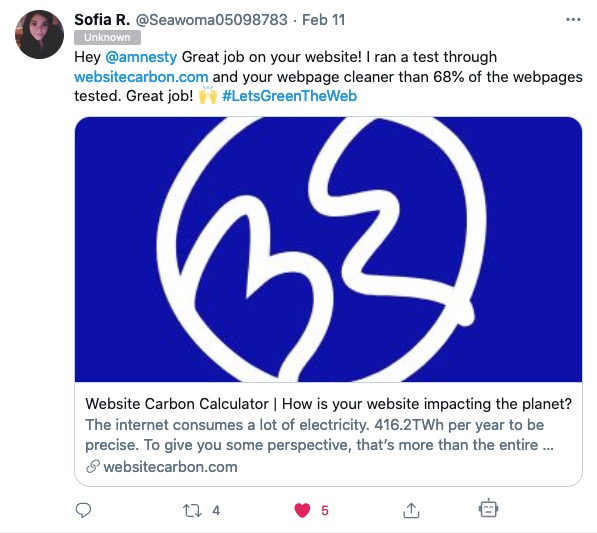 Unbabel
One day after sending the tweets, I received a positive response from Unbabel. My contact, who works there, shared the tweet in their slack and the front-end developer reached out to him saying that they were now building a new website. At the end of the project, the homepage should have a better score.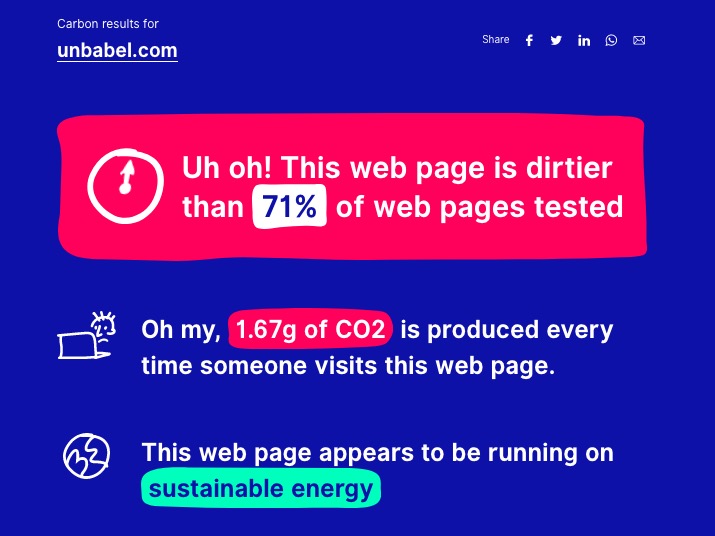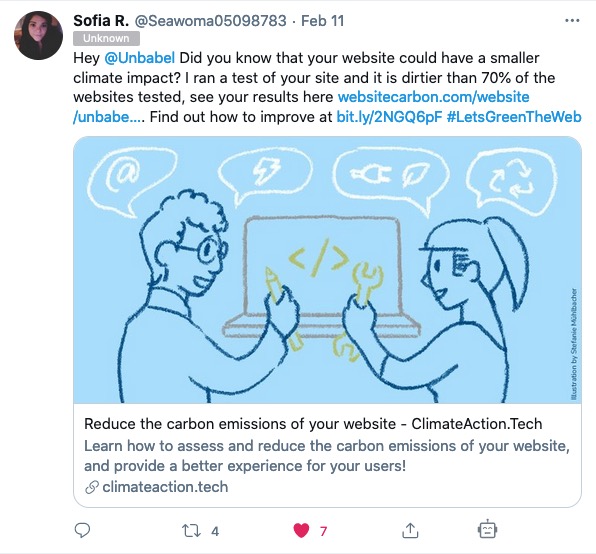 FCUL
As I mentioned this is college I study at. I tested their webpage and it had a bad score. I'm sure this is due to lack of awareness since my college actually has some pretty awesome programs to make sure their internal process are sustainable and green.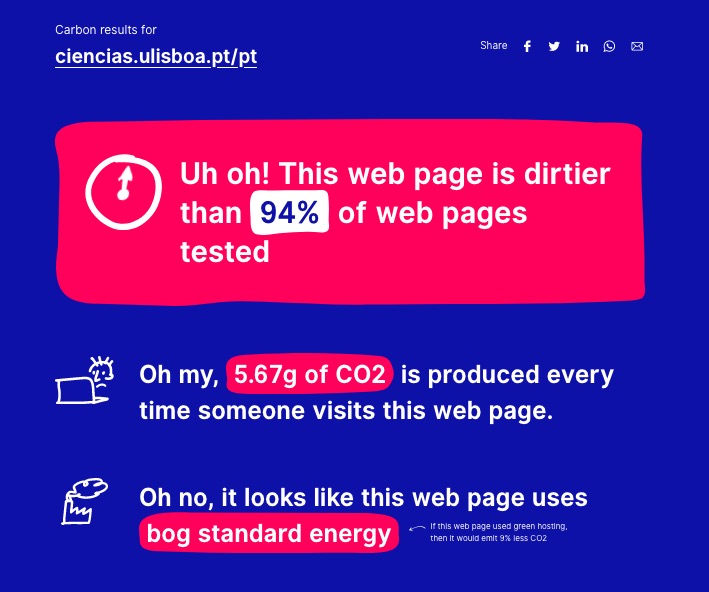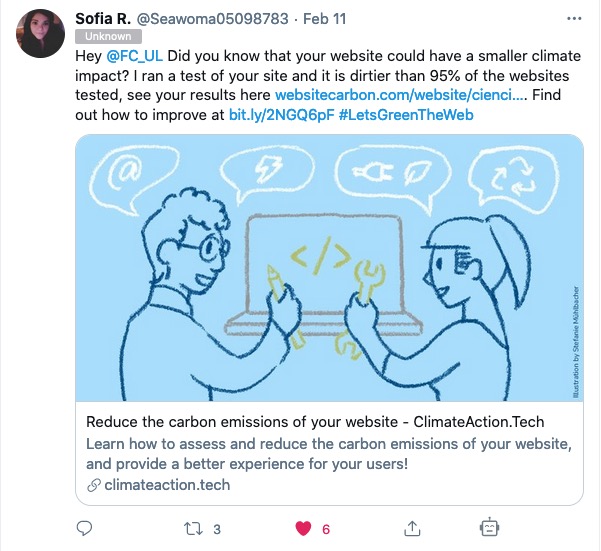 Lush UK
I was honestly surprised by Lush´s webpage score. I love this cosmetic company! Lush is strongly committed to making sustainable products and giving a wholesome experience to their customers. So I bet they will appreciate knowing the carbon emissions of their homepage.
As you can see they use sustainable energy to run their website but still the score is quite low.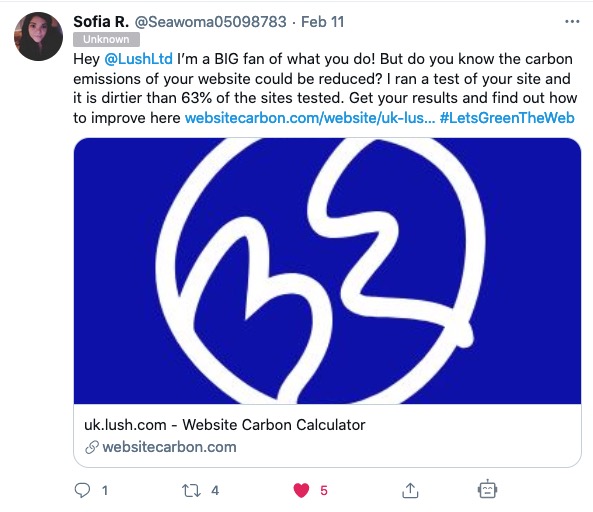 Carbon Brief
This news website does a great job empowering environmental activists, like me, staying current and armed with facts while fighting climate change.
Again just like Lush, this homepage seems run on servers using renewable energy sources. But a renewable powered server is not enough for the homepage to have a good score. So I am sure they will appreciate knowing their homepage impact.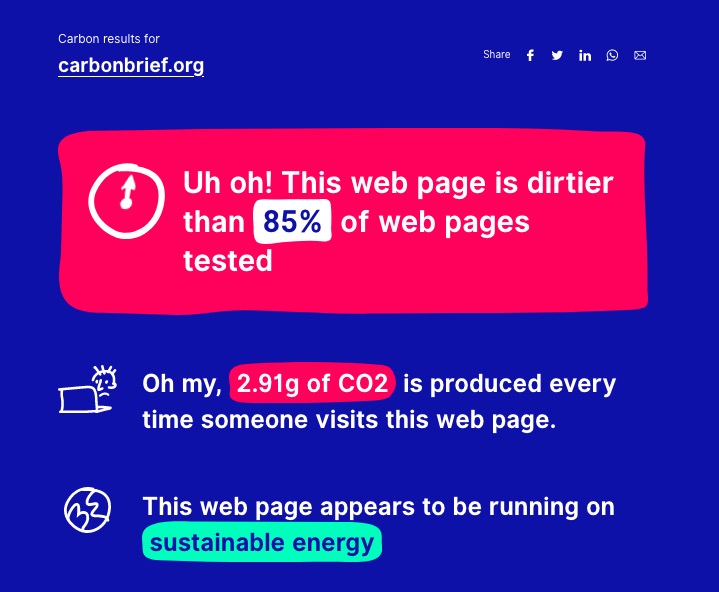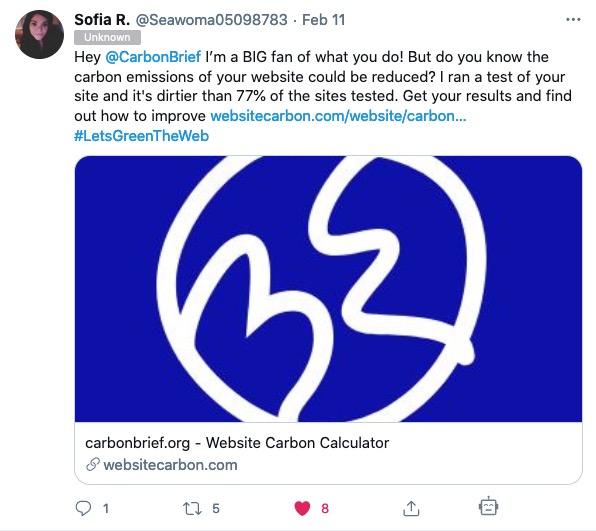 Was it worth the effort?
On the surface, you might think it wasn't worth the effort as I got no public replies from the companies. I had hoped I might get some response, but did I expect to when I started? No I didn't.
The spirit of the #LetsGreenTheWeb campaign was to raise awareness that there are carbon emissions arising from websites, and to get people talking about it, and acting. Do I think my tweets achieved that? Yes, I most certainly do.
Many of my friends and colleagues saw the tweets and felt inspired to take action towards these companies/organisations and more importantly, towards websites they control. For example, a friend of mine, who usually writes articles for Medium and other online platforms, reached out to me privately and asked if there was any way he could minimize or offset his article's emissions.
You can also see on the Carbon Brief tweet replies, a conversation started about how to green websites, specifically the terra.do site. Resources and advice were shared on how to do this.
So overall, yes, it was a small victory. But if everyone has these small victories then we can, all together, green the internet and help take swift action on climate change. I'm already excited for the next #LetsGreenTheWeb campaign!